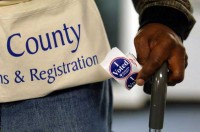 Voters will decide today who will fill three of the five seats on the Sarasota City Commission. Polls for the non-partisan election are open from 7 a.m. to 7 p.m. For information about your polling place, call 861-8600 or go to srqelections.com.
In District 1, which spans the northern part of the city east of the Tamiami Trail, incumbent Fredd Atkins chose not to seek re-election. Richard Dorfman, Linda Holland, Willie Charles Shaw and Frederick Douglas Williams are vying to replace him.
In District 2, which includes neighborhoods west of the Trail, incumbent Richard Clapp is challenged by Paul Caragiulo.
In District 3, which spans the southern part of the city, Mayor Kerry Kirschner chose not to run again. Diana Hamilton, Shannon Snyder and Pete Theisen are vying to replace him.
A runoff in any race with more than two candidates, if required, will be May 10. Check local news broadcast tonight for election results.