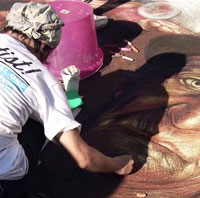 The Festival happens through Nov. 6 in Burns Square where international artists will converge side-by-side with kids to chalk up the neighborhood. Drop by anytime, and you'll never know what or who you might see.
One of the biggest draws will be Kurt Wenner, a Baltimore-based 3-D street painting artist known worldwide for his work. More murals are on the way, too, as the "Going Vertical" campaign will take over walls from 18 buildings around the city.
For those looking to chill to the music, Chillounge will turn the streets of Burns Square into a comfortable area to sit on high-end patio furniture while enjoying a night out with friends listening to live music. That takes place on Laurel Street between South Pineapple Avenue and South Orange Avenue from 5 p.m. to midnight on Friday, 8 a.m. to 11 p.m. on Saturday and Sunday.
Now in its 6th year, the Sarasota Chalk Festival's goal is to bring the community together in mutual appreciation of some of the world's best street art. Each year the festival has inspired thousands with its fantastic chalk drawings and wonderful murals. Last year the festival drew 200,000 spectators who saw 250 world-renowned artists such as Kurt Wenner and Leon Keer create beautiful three-dimensional chalk drawings on the streets of Sarasota.