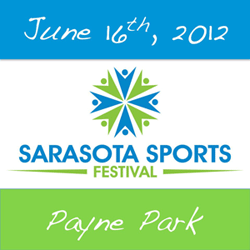 The inaugural Sarasota Sports Festival, a free family fun day to boost awareness of Payne Park in downtown Sarasota, will be held Saturday, June 16, 2012 8 a.m. – 3 p.m. The FREE event will feature a family fun run/walk, motivational exercise classes and a wide variety of sporting events and demonstrations from disc golf to Strider bicycling to Teddy Tennis.
The new circus themed playground at Payne Park also will be unveiled to the public and Ringling Bros. and Barnum & Bailey will perform a special one-time only act just for the Sarasota Sports Festival at 9:30 a.m. "I envisioned this family fun day over a year ago," said Mayor Suzanne Atwell. "Thanks to a terrific hard working committee we're putting together a fabulous event that will put our beautiful Payne Park on the map and give families a reason to get out and exercise while having fun on a Saturday," said Mayor Atwell. Payne Park is located at 2050 Adams Lane.
Activities will kick off at 8:30 a.m. with a family fun run/walk around the half-mile Payne Park track. Then, while Gold's Gym instructors lead invigorating exercise classes on the main stage, various other events will get underway simultaneously throughout the park. "I'm really excited about this festival," said Joe Duffus, Sports Festival Chairman and CEO of FIT Group, a Gold's Gym partner. "Sports festivals are becoming very popular around the country. Some cities have tens of thousands of people who show up to their events. Sarasota has never seen anything like this before and I think families are going to have a great day filled with free fun," said Duffus. Festival goers are encouraged to stroll the grounds and test their aptitude with different sports throughout the day.